Why use stone wall products?
When it comes to landscaping your outdoor space, wall stone can be used in many functional ways. Wall stone is a versatile material that can be used to create retaining walls, garden walls, and edging for flower beds. It can also be used to create stunning focal points such as outdoor fireplaces, water features, and seating areas.
Benefits of wall stone
Wall stone is incredibly durable and lasts for many years against the elements. Sunlight, rain, and are very real concerns that can tarnish many outdoor products. However,  Stone is a naturally strong material that can withstand the elements, making it a long-lasting option for outdoor projects. It is also low maintenance and only requires occasional cleaning to look its best.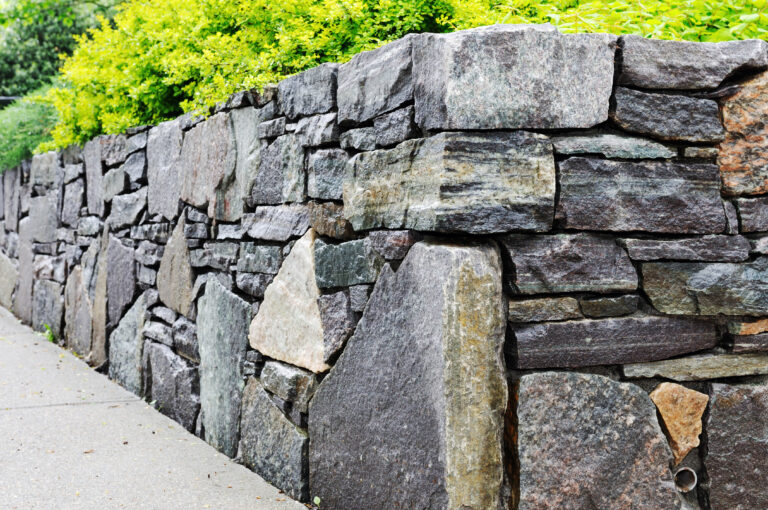 There are many different types of wall stone to choose from, each with its own unique look and feel. Some popular options include limestone, sandstone, granite, and slate. Each type of stone has its own color, texture, and pattern, giving homeowners plenty of options to create a personalized landscape design.
In addition to its aesthetic appeal, wall stone also has practical benefits. For example, retaining walls made from stone can help prevent soil erosion and provide support for sloping yards. Stone walls can also be used to create raised garden beds, which can help improve drainage and provide better growing conditions for plants.
Installing wall stone requires some skill and experience, but it is a project that can be done by homeowners with the right tools and preparation. The first step is to plan out the design and choose the type of stone that will be used. It is also important to prepare the area where the wall will be installed, including leveling the ground and installing a base layer of gravel or sand. The actual installation process involves laying the stones in a pattern, using mortar or a specialized adhesive to hold them in place. It is important to take the time to ensure each stone is level and secure, as this will ensure the wall is sturdy and will last for years to come. For a more detailed article about installing a DIY retaining wall, visit our blog post.
In the end, wall stone is a beautiful and durable material that landscaping professionals prefer when adding to hardscape or building retaining walls. Whether creating retaining walls, garden walls, or focal points like outdoor fireplaces and seating areas, wall stone provides both aesthetic and practical benefits. With careful planning and installation, homeowners can create a stunning and long-lasting outdoor space that will be enjoyed for years to come.
Local Service, National Resources
Heritage Landscape Supply Group is the best network of independent landscape supply distributors in the US, united by a shared vision to provide exceptional customer service, to carry the best products from top manufacturers, and to help every customer grow their business.