Looking to transform your outdoor space into an entertainment space? Look no further than the Stone Center of Texas for products you need for a unique outdoor kitchen. Outdoor grills are our specialty. Visit a local branch today and get your project started.
Outdoor Kitchens and Grills
Outdoor hardscape kitchens have become increasingly popular over the years, offering homeowners a stylish and functional space for cooking and entertaining guests in their backyard. These outdoor kitchens are designed to withstand the elements, utilizing durable materials such as brick, stone, and concrete. An essential component of any outdoor hardscape kitchen is an outdoor grill, which is often the centerpiece of the cooking area.
The Advantages of Outdoor Kitchens
The advantages of having an outdoor hardscape kitchen are numerous. They provide homeowners with the convenience of cooking and entertaining guests outside, without having to constantly go in and out of the house. This not only saves time but also enhances the overall outdoor experience. Additionally, outdoor hardscape kitchens can significantly increase the value of a property, particularly when they are designed with functionality and aesthetic in mind.
Outdoor grills are an essential part of any hardscape kitchen. They come in a variety of styles and sizes, including gas, charcoal, and electric models, each with its own unique advantages. Gas grills, for example, are popular due to their convenience and ease of use, while charcoal grills offer a more traditional grilling experience with added smoky flavor. Electric grills, on the other hand, are perfect for those who live in areas with strict fire codes or limited outdoor space.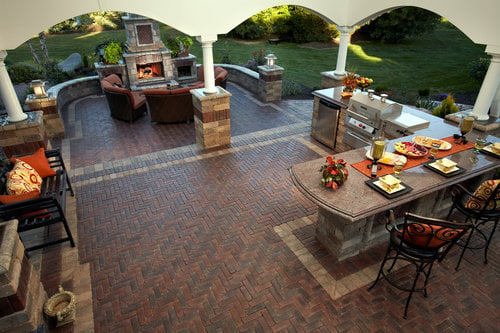 Designing Your Outdoor Hardscape Kitchen
When designing an outdoor hardscape kitchen, it is important to consider several factors, including the size of the space, layout, and features. The outdoor kitchen should fit comfortably in the available space and be easily accessible from the indoor kitchen. The layout should be functional and allow for smooth traffic flow, while the features should include all the necessary components for a successful outdoor cooking experience, such as countertops, sinks, refrigerators, storage cabinets, and of course, an outdoor grill.
One of the many benefits of an outdoor hardscape kitchen is that it requires minimal maintenance and is designed to withstand the elements, making it a long-lasting and durable investment for any homeowner. The materials used to construct the outdoor kitchen are designed to handle outdoor use, ensuring that the hardscape kitchen can be used year-round, regardless of the weather.
In conclusion, outdoor hardscape kitchens and outdoor grills have become increasingly popular in recent years, offering homeowners a functional and stylish space for cooking and entertaining. When designing an outdoor kitchen, it is important to consider the available space, layout, and features, including the outdoor grill, to ensure that the kitchen is both functional and aesthetically pleasing. With careful planning and attention to detail, homeowners can create an outdoor hardscape kitchen that they will enjoy for years to come.
Local Service, National Resources
Heritage Landscape Supply Group is the best network of independent landscape supply distributors in the US, united by a shared vision to provide exceptional customer service, to carry the best products from top manufacturers, and to help every customer grow their business.