We understand that as a landscape professional your reputation relies on the quality of the work you deliver. Stone Center of Texas delivers on this promise by sourcing the most trusted brands and products in hardscape and natural stone. From flagstone to cobblestone, boulders to pebbles, we have everything you need to add a touch of natural beauty to any landscaping project.
Browse our selection of natural stone products today and see the difference for yourself.
At Stone Center of Texas, we pride ourselves on providing exceptional customer service and expert advice to ensure that you find the perfect materials to bring your vision to life. We also offer convenient delivery options and competitive pricing to make your shopping experience hassle-free.
Natural stone is a highly prized material in the landscape industry due to its versatility, durability, and unique aesthetic qualities. From walkways and patios to retaining walls and water features, natural stone can be used to enhance any outdoor space and create a truly stunning landscape design.
One of the primary benefits of natural stone is its durability. Unlike synthetic materials, natural stone is able to withstand the elements and maintain its structural integrity over time. This means that it can be used in high-traffic areas without fear of cracking or crumbling. Additionally, natural stone is resistant to stains, making it a low-maintenance option for outdoor surfaces.
Another advantage of natural stone is its versatility. It comes in a wide variety of colors, textures, and shapes, allowing landscape designers to create truly unique designs. Some of the most popular types of natural stone used in landscaping include granite, limestone, sandstone, and slate. Each of these stones has its own unique character and can be used to create a variety of different looks.
Granite, for example, is a popular choice for walkways and patios due to its strength and durability. It also comes in a range of colors, from the classic gray to deep blues and greens. Limestone, on the other hand, has a more muted color palette and is often used for retaining walls and other hardscaping elements. Sandstone has a warm, earthy look that works well in naturalistic designs, while slate is prized for its rich textures and ability to create a sense of depth and dimension.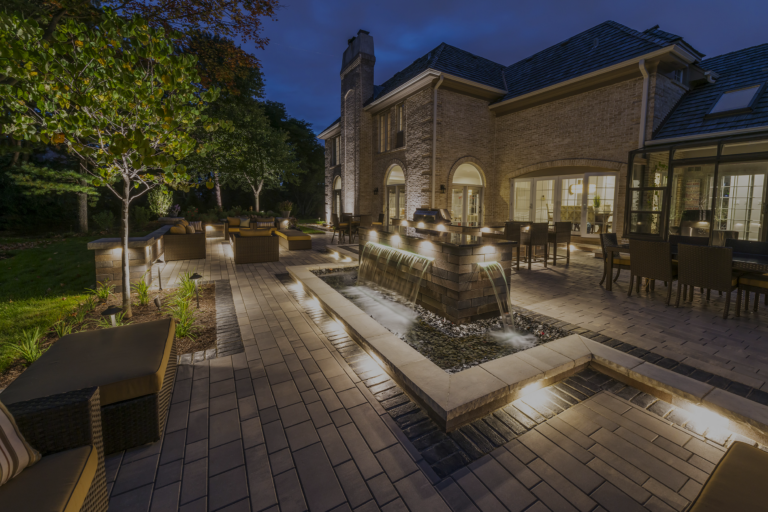 Natural stone can also be used to create a wide range of different features in the landscape. For example, retaining walls made from natural stone can be used to create terraces and level out sloping terrain. Water features like fountains and waterfalls can be constructed using natural stone to create a soothing, naturalistic look. And outdoor fireplaces and fire pits can be built using natural stone for a rustic, cozy feel.
One of the challenges of using natural stone in landscaping is the cost. Natural stone is typically more expensive than synthetic materials like concrete or pavers. However, many homeowners and landscape designers feel that the added cost is worth it for the beauty and durability that natural stone provides.
In addition to the cost, there are also some practical considerations to keep in mind when using natural stone in landscaping. For example, natural stone can be heavy and difficult to work with, requiring specialized equipment and skilled labor. And because it is a natural material, there can be some variation in color and texture from one stone to another, which can make it challenging to achieve a perfectly uniform look.
Despite these challenges, natural stone remains a popular and highly sought-after material in the landscape industry. Its durability, versatility, and unique beauty make it a favorite among homeowners and landscape designers alike. Whether you're looking to create a simple garden path or a complex outdoor living space, natural stone is sure to add a touch of elegance and sophistication to your landscape design.
Local Service, National Resources
Heritage Landscape Supply Group is the best network of independent landscape supply distributors in the US, united by a shared vision to provide exceptional customer service, to carry the best products from top manufacturers, and to help every customer grow their business.