Looking to transform your outdoor space into an entertainment space? Look no further than the Stone Center of Texas for products you need for a unique outdoor kitchen. Outdoor grills are our specialty. Visit a local branch today and get your project started.
Fireplaces vs. Firepits: Understanding the Differences​
Firepits and fireplaces are popular outdoor features that add warmth, ambiance, and style to any backyard or patio. While they share some similarities, there are important differences between the two that homeowners should consider when deciding which one to install.
Firepits are typically open-air structures that can be portable or built-in. They are often made of metal, stone, or concrete and come in various shapes and sizes, from simple bowls to elaborate designs. Firepits are usually placed on a flat surface and can be fueled by wood, gas, or propane. They are great for socializing and entertaining, as they provide a focal point for gatherings and create a cozy atmosphere. Firepits are also relatively low-maintenance, as they don't require a chimney or extensive cleaning.
Fireplaces, on the other hand, are enclosed structures that are usually built into a wall or chimney. They are made of brick, stone, or other masonry materials and have a hearth, firebox, and chimney. Fireplaces are typically larger and more permanent than firepits and require professional installation. They are often fueled by wood or gas and provide more heat than firepits. Fireplaces are great for cooking, as they have a built-in grill or oven, and can also be used for heating an outdoor space.
Choosing the Right Materials for Your Fire Feature
When it comes to selecting the right materials for your fire feature, there are several factors to consider. The material should be durable, weather-resistant, and able to withstand high temperatures. It should also complement the style and design of your outdoor space. Here are some popular materials for firepits and fireplaces:
Stone: Natural stone, such as granite or limestone, is a popular choice for fire features. It is durable, heat-resistant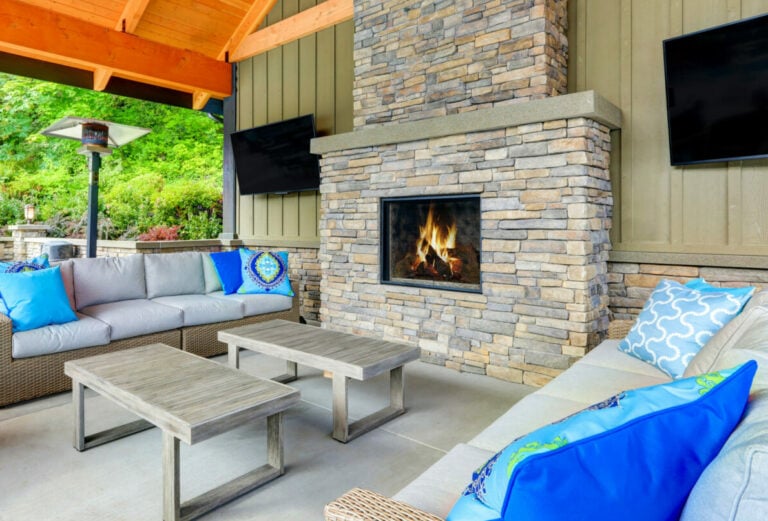 Types of Firepits and Fireplaces
Fire pits and fireplaces come in a variety of styles and designs, from simple and rustic to sleek and modern. Some popular types of fire pits include wood-burning pits, gas-powered pits, and propane-powered pits. Likewise, fireplaces can be powered by gas or wood and can be freestanding or built into a wall.
Materials for Firepits and Fireplaces
The materials you choose for your fire pit or fireplace can have a significant impact on the overall look and feel of your outdoor living space. The good news is that there are plenty of options available to suit a range of styles and preferences.
Stone, brick, and concrete are popular choices for fire pits and fireplaces, particularly for those who want a classic and rustic look. These materials are durable, heat-resistant, and can withstand the elements, making them ideal for outdoor use. They also come in a variety of colors and textures, so you can find a material that complements your existing landscape and design aesthetic.
If you prefer a more modern and sleek look, you may opt for materials like stainless steel or glass. Stainless steel is durable, easy to clean, and has a contemporary look that works well with minimalist designs. Glass, on the other hand, can create a stunning visual effect, particularly when used in fireplaces. It can be used to create a see-through enclosure that allows you to enjoy the flames from multiple angles.
Other materials to consider for fire pits and fireplaces include copper, cast iron, and even wood. Copper has a warm and inviting look and is particularly popular for fire pits. Cast iron is durable and has a classic look that works well with traditional designs. Wood is also a great option for those who want a natural and organic look, particularly when used in conjunction with stone or brick.
Ultimately, the materials you choose for your fire pit or fireplace will depend on your personal style, budget, and the overall look and feel of your outdoor living space. With so many options available, it's easy to find a material that perfectly suits your needs and preferences.
Benefits of Firepits and Fireplaces
Fire pits and fireplaces are more than just beautiful features that enhance the look and feel of your outdoor living space. They offer a range of benefits that can make spending time outdoors even more enjoyable. One of the most obvious benefits is that they provide warmth and light, allowing you to continue using your outdoor space long after the sun has set or during colder seasons.
Another benefit of fire pits and fireplaces is that they create a natural gathering spot for friends and family. There's something about gathering around a warm fire that brings people together, making them ideal for entertaining. Whether you're roasting marshmallows, telling stories, or simply enjoying a drink, a fire pit or fireplace can create a cozy and intimate atmosphere that encourages conversation and relaxation.
In addition to their social benefits, fire pits and fireplaces can also add value to your property. They're an attractive feature that can make your outdoor living space more inviting and functional. In fact, many homebuyers are willing to pay a premium for a home that has an outdoor fire feature, which can make it a wise investment for homeowners.
Finally, fire pits and fireplaces are versatile and can be used in a variety of ways. You can cook on them, use them as a source of light and warmth, or simply enjoy the ambiance they create. With a range of styles and materials to choose from, you can find a fire feature that perfectly complements your outdoor living space and suits your lifestyle.
If you're in the market for a new fire pit or fireplace, the Stone Center of Texas is an excellent place to start your search. With a wide selection of high-quality materials, expert advice, and competitive prices, the Stone Center of Texas has everything you need to turn an outdoor space into an entertaining paradise!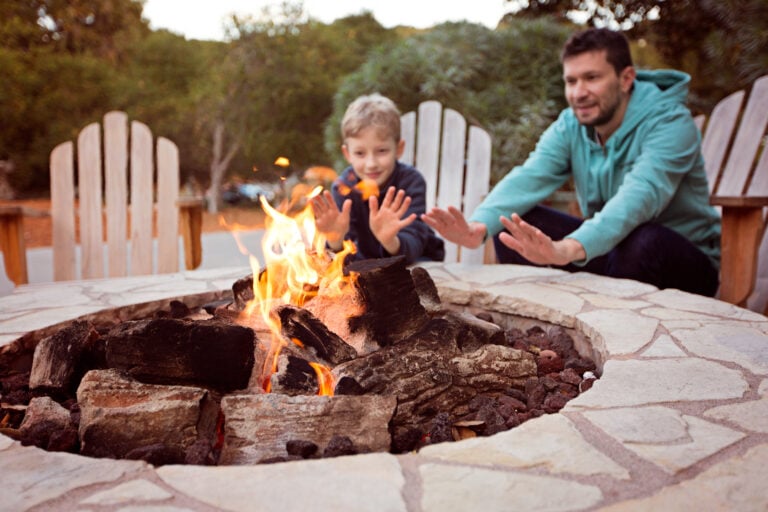 Local Service, National Resources
Heritage Landscape Supply Group is the best network of independent landscape supply distributors in the US, united by a shared vision to provide exceptional customer service, to carry the best products from top manufacturers, and to help every customer grow their business.